The project is currently at Phase 4. A copy of the Environmental Impact Assessment Report and Natura Impact Statement were submitted to An Bord Pleanála on the 23 October 2018 and the Motorway Scheme and Protected Road Scheme were submitted on the 26 October 2018.
A copy of these documents is available to view at:
    Galway National Roads Project Office (Galway County Council),
    Corporate House,
    City East Business Park,
    Ballybrit Galway.
    Or at www.N6GalwayCityRingRoad.ie.
Formal written submissions may be made to ABP up until 21 December 2018. Thereafter, An Bord Pleanála (ABP) must consider the EIA Report, NIS and any submissions made before making a decision on whether to grant approval to the N6 Galway City Ring Road. ABP may conduct an oral hearing and/or may seek additional information as part of the statutory processes.
After the oral hearing is held, ABP must consider the report and any recommendations of the Inspector holding the oral hearing. ABP may approve the N6 Galway City Ring Road Scheme or any part thereof under Section 51 of the Roads Act 1993 as amended, with or without conditions or modifications or may refuse to approve such development or any part thereof.
Subject to ABP approval, availability of funding and no legal challenges, the proposed road development then advances to land purchase, detailed design, the procurement of a contractor and, ultimately, the construction phase. Construction may include a number of contracts in advance of the main construction contract for the proposed road development, such as diversion of existing services, site investigations, archaeological investigations, site clearance, and fencing. It is estimated that the main construction contract will take 3 years.
Project Flowchart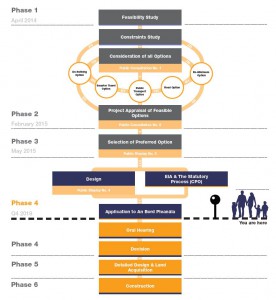 EIAR Flowchart